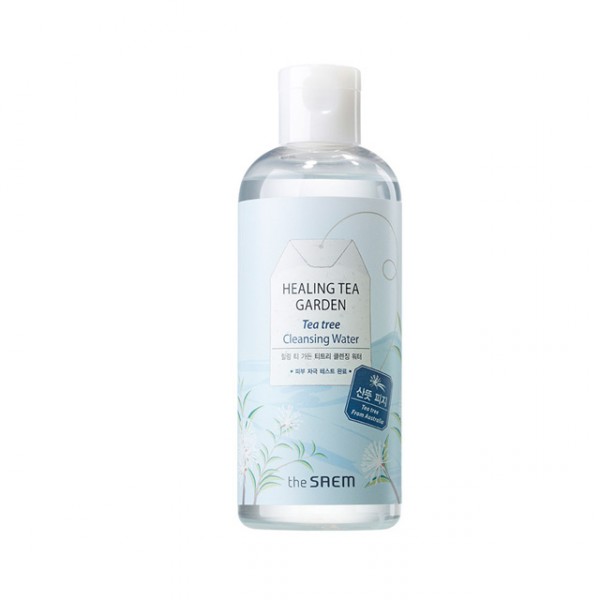 Details
Althea Says: Busy lifestyle? The SAEM's Healing Tea Garden Tea Tree Cleansing Water is a gentle but powerful one-step cleanser that removes dirt and all kinds of residue on your skin, makeup included! Infused with Australian tea tree extract, this product keeps your pores clean and sebum production at bay, making this a must-have for those with oily, more acne-prone complexions. This cleansing water is made without any artificial pigments, synthetic fragrances, benzophenone, parabens, animal products, mineral oil or talc, making sure this product doesn't irritate the skin.
Size: 300ml
Type: Normal to oily, combination skin types
Color: -
How To Use: Saturate a cotton pad and apply onto face, leaving it on the skin for 5-10 seconds before wiping to really remove makeup and cleanse skin. Repeat as needed, then rinse off with water and pat dry.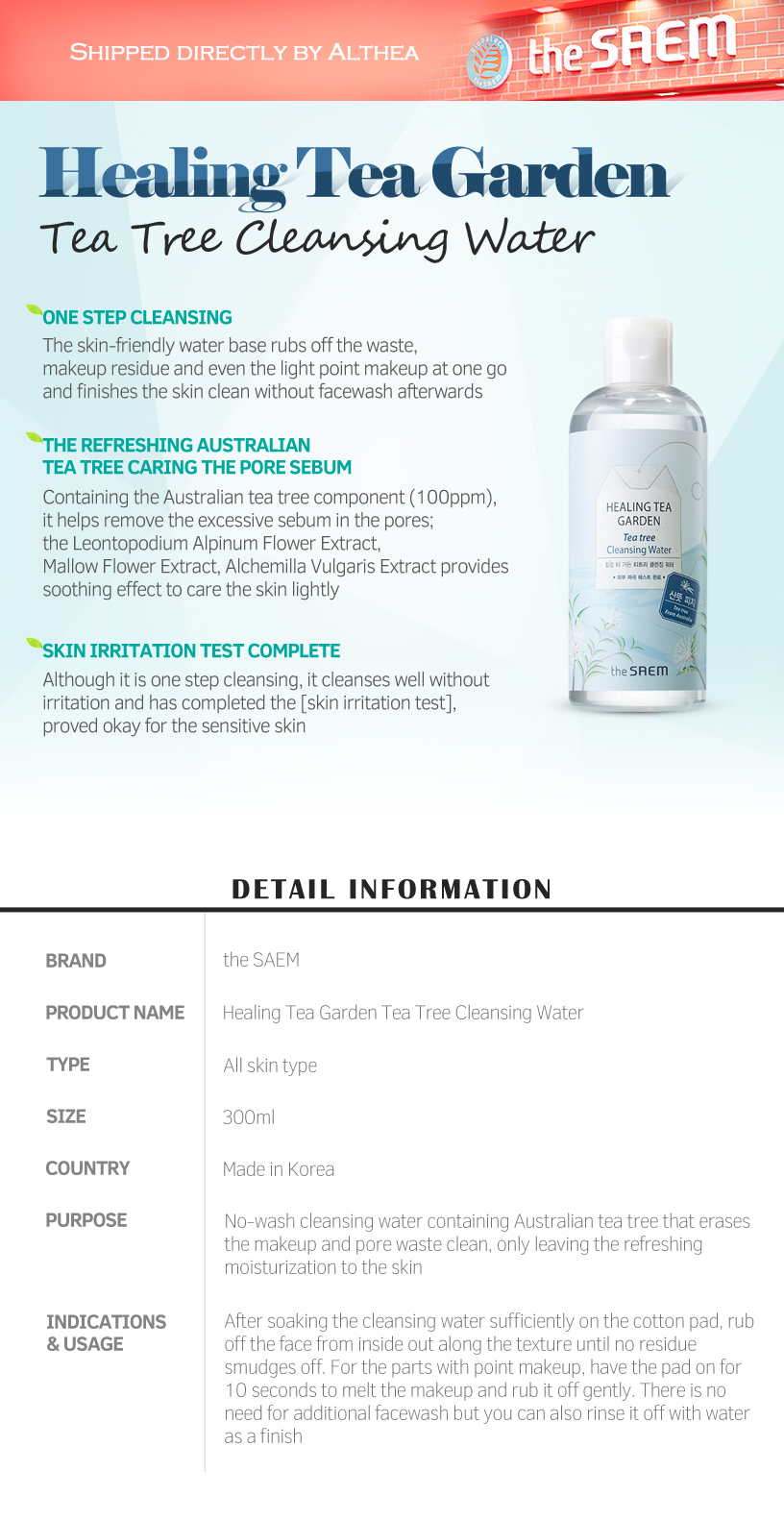 POLICY & NOTICE
ALTHEA GUARANTEES
1. We guarantee the authenticity of the product that you are purchasing. If you feel as though the product is not genuine, or if you just don't like it, please return it. We guarantee a market-leading 30 day unconditional return policy!
2. Not only is the product genuine, but we make sure everything provided is the latest from Korea. We don't keep our inventory in local warehouses. Why should we? Do you like fresh fruit or canned fruit? See? We carry the freshest inventory with the latest Korean trends, and ship them directly from Korea to you! And to top it all off, free shipping...Whoa!
3. Althea makes sure you are getting all your products at the best available market price. We guarantee it! In the slim chance, we messed up, just let us know, and we will fix all that!
RETURN POLICY
Althea makes sure to put an extra umph and a sprinkle of class on our customer service. If in any circumstance, you are in any way dissatisfied with our product, let us know, and we will give you 30 whole days to return it and even pay for your return shipping fees.
For a more complete, detailed guide to our return policy, please look at our Terms and Conditions page.
CUSTOMER SERVICE
Always let us know how to improve our service. We are all ears! If there was anything you were not content with, please do let us know and we will rectify the situation ASAP! For a more complete, detailed guide to our Customer Service, please look at our Terms and Conditions page.
PRODUCT DESCRIPTIONS
Althea attempts to be as accurate as possible. However, Althea does not warrant that product descriptions or other content of this site is accurate, complete, reliable, current, or error-free. If a product offered by Althea itself is not as described, your sole remedy is to return it in unused condition.
For a more complete, detailed guide to our service, please look at our Terms and Conditions page.